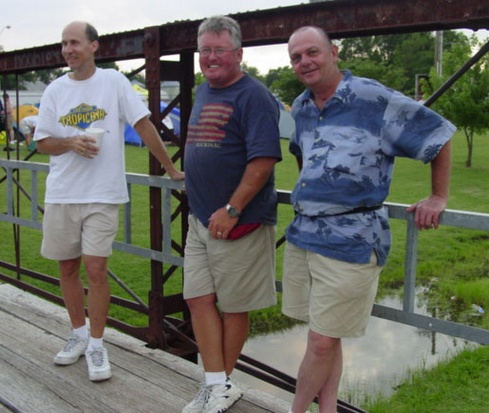 THE TEXANS

Dean Dotts, David Walkley, Tom Baker. My three riding partners this year.
Tom is my best friend of more years than we care to admit. (hint... we met in 1975) This is his 4th Freewheel and he's done RAGBRAI (a ride in Iowa like Freewheel only different) 4 times. He has been riding since the 70's.

Dean is a 19 year Freewhweel veteran with as many RAGBRAIs in the saddle. On this Freewheel he was riding a recumbent he had gotten a week before and his butt was saved by a fishy pillow purchased from a gift shop in Hinton.

David has done 13 Freewheels and a bunch of RAGBRAIs. He is also a bicycling legend in Texas. In David's younger days he did 5 TRIPLE CENTURIES (that's 300 miles in 24 hours!) as well as some other amazing feats.

So... with me being a real novice I was honored to be in the company of these great riders.